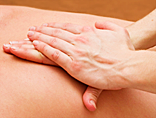 DEEP TISSUE MASSAGE:Deep Tissue Massage targets problem areas and involves techniques that are beneficial tothe sub-layer of musculature and fascia. Deep Tissue Massage helps with chronic muscular pain, injury rehabilitation, reduced inflammation-related pain caused by arthritis and tendinitis, and repetitive strain injuries caused by working on a computer, lifting or carrying heavy objects, etc.
1 hour-$65; 1/2 hour-$40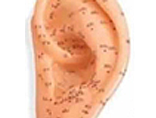 Auricular Therapy:What is Auricular Therapy? Auricular Therapy / Ear Seeds is the placing of seeds via small flesh colored adhesive to stimulate Acupuncture points corresponding to various parts of the body. This non-invasive method is painless, promotes relaxation, stress reduction, pain reduction, and regulates Qi. Typically they stay on for 3-7 days and have limited contraindications. I enjoy placing Ear Seeds because they are convenient and often times produce speedy results and continue to support the effects of my massage work after the client has left my office.
Stressed, in pain, over worked, cravings? Get quick, affordable, and non-invasive, relief. Auricular therapy is a great addition to any massage session or by itself. Price-$10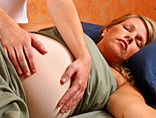 PRENATAL/PREGNANCY MASSAGE:Many methods of massage therapies are both effective and safe prenatally and during labor and postpartum periods of women's pregnancies. Prenatally, specific techniques can reduce pregnancy discomforts and concerns and enhance the whole body and emotional well-being of both mother and fetus. Pre-natal massage can be used to facilitate shorter labor times and easing pain and anxiety. In the postpartum period, specialized techniques rebalance structure, physiology, and emotions of the new mother and may help her to bond with and care for her infant. 1 Hour-$65; 1/2 hour-$40
REFLEXOLOGY:Reflexology Massage is an ancient Egyptian modality. This massage technique involves manipulation of specific reflex areas in the foot, and hands that correspond to other parts of the body. Sometimes referred to as zone therapy, this bodywork involves application of pressure to these reflex zones to stimulate organs and relieve areas of congestion. Similar to acupressure principles, reflexology works with the body's energy flow to stimulate self-healing and maintain balance in physical function.
1 Hour-$65; 1/2 hour-$40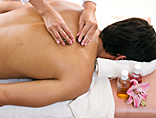 SWEDISH MASSAGE:One of the most commonly taught and well-known massage techniques, Swedish massage is a flowing system designed to rejuvenate the body by stimulating circulation. Typically a full body massage, five basic strokes, all flowing toward the heart, are used to manipulate the soft tissues of the body. The disrobed client is covered by a sheet, with only the area being worked on exposed. Therapists use a combination of kneading, rolling, vibration, percussive, and gliding movements, with the application of oil, to reduce friction on the skin.
1 Hour-$65; 1/2 hour-$40
DIT DAT JIAO, various sizes available:This concentrated topical herbal liniment was made popular by the Chinese Martial Arts community. Indicated for injuries that restrict movement, cannot tolerate pressure, are red and / or swollen, and may include blood stagnation.


Licensed Massage Therapist


Affiliations: AMTA and NCBTMB


Massage prices begin at $60 an hour.


Create a routine that's healthy.
Most important ingredient in relaxation is to BREATHE. I cannot stress that enough.
Breathe slowly and deeply for a few breaths, close your eyes and picture yourself in your favorite place.
Drink lots of water regularly.
Laugh.
Hug someone you love
BREATHE.